5.0 star rating
5.0
4 Reviews
Jonathan H.
5 star rating
Amazing Guitar and service
Review by Jonathan H. on 1 Apr 2019
review stating Amazing Guitar and service
My Godin XTSA Leaftop transblack is an amazing instrument and incredibly versatile. I have only ever played accoustic guitars before (last one also from Richard) and wanted something different but was not sure what to buy. I was able to visit Richard and his help was absolutely brilliant in helping me decide what to buy. His knowledge was really useful and there was no pressure to buy anything. I had tried another large music shop with an extensive range of guitars but was not given the help or time that I needed to make my decision. Thank you Richard and team for your exceptional service.
Godin xtsa
Review by Sean B. on 13 Dec 2018
review stating Godin xtsa
Cannot fault Richard guitars one bit. A great experience dealing with this company. Guitar arrived really well packaged and set up beautifully. A pleasure to deal with. Will use again and recommend to others. Thanks Richard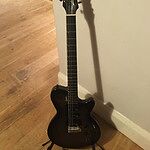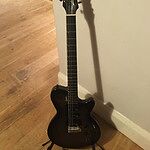 This guitar has EVERYTHING!
Review by Mat O. on 12 Sep 2017
review stating This guitar has EVERYTHING!
My word, what an utterly amazing instrument. Solid construction, beautiful finish and more connection options than you can shake a stick at.

As a person who's live show is based around looping, I need many different sounds at my findertips, from warm acoustic guitar sounds to thumpy percussive piezo slapping to filthy distorted riffs.
The XTSA gives me all these options, and thanks to the dedicated outputs for both the magnetic and piezo pickups, I can process them exactly as I want before blending them back together before they hit the looper.

I've only had the guitar for a few weeks, but every single gig i find myself at some point muttering ''God I f****** love this guitar''

I also noticed at the last rehearsal that the intonation is perfect all the way up the neck and I'm sure that this it in part thanks to Richard's free setup before shipping it to me. Thanks Richard!

The real reason behind me choosing this guitar was the 13pin pickup - I've had as chance recently to start rehearsing with the Boss GR55 Guitar Synth and cannot WAIT to start using it live to add lush string arrangements and brass stabs.

I'm utterly over the moon. Now to actually get good at guitar...


Mat O'Neill
www.thedistancelive.com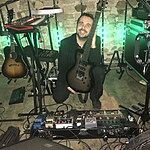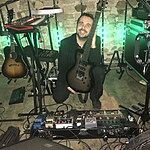 GODIN XTSA Leaftop Trans Black with Bag Inc. £100 Professional Setup & Added Value
Review by Cliff J. on 21 Feb 2017
review stating GODIN XTSA Leaftop Trans Black with Bag Inc. £100 Professional Setup & Added Value
Blown away by the sounds it makes through the Roland GR-55. Plays beautifully and looks and sounds great. Jusyt effortlessly and seamlessly played a version of Rainy night in Georgia using Jazz guitar sounds with a break using brass ensemble and it had me fooled. Delighted with purchase, the help given to make the right choice and the set up , your shop is just what I want from a guitar shop, full of great guitars , friendly , helpful and knowledgeable service, and great equipment to fully explore the different options