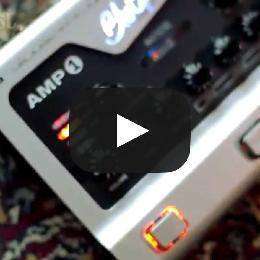 BluGuitar Amp 1 Mercury Edition
Sale price

$806.00
Regular price

$1,021.00
(/)
---
Want a Better Guitar? Buy It From Richards Guitars - If you are serious about the guitar please do find the time to read this. I promise you that anyone offering you next day delivery are not offering what we do!

Behind every guitar sold is our meticulous quality control and personalized setup service. We literally leave no stone unturned. From geometric to cosmetic - every aspect is checked and adjusted as necessary...

We want your guitar to INSPIRE you.

In this first video I introduce you to a customers guitar which is about to go into our workshop for setup and I show you just how many modifications and improvements will be made to the guitar.




This second video shows the guitar going through the workshop process. This process takes around an hour but dont worry - its just highlights!  

Its Not Always A Happy Ending

One of my favorite adverts was one by Honda which said at Honda they don't use the word "OK" and instead they use the phrase "What If".  I LOVED that advert and found it so inspiring.  This is the premise of every guitar setup we undertake.  If that means rejecting guitars and starting again - that is exactly what we do.

No Time To Watch the Videos? Here Is the Summary...

If you have bought a guitar before you will know all too well that not every guitar feels or plays the same. You may also know that due to the nature of the major component of the guitar (wood) that they can feel great one moment and awful the next (say for example after traveling half way around the globe on a boat - from some factory in the far east to the UK!)

Richards Guitars offers a unique service offering the more discerning/knowledgeable buyer a host of "players benefits" which will ensure that ANY guitar purchased will give you years of enjoyment - regardless of the price paid. I can demonstrate that a guitar purchased from Richards Guitars will...

Sound Better
Pickups need to be balanced and adjusted accordingly for the optimum output. The height of the strings on an acoustic will effect the overal tone and volume. The break angle of string over saddle will also effect the volume, tone and energy that remains in the string. A poorly cut nut will sap tone and can cause various rattles and buzzes.

Feel Better
Mass produced guitars always suffer to a varying degree from sharp burs on the edges of the frets where they have been cut off in production. By spending time "softening" these edges it makes a massive difference to the feel of the guitar. From a sharp, scratchy feel when moving your hand up and down the fretboard to a guitar that feels like it has been played in for years.

Play Better
It is rare that there isn't a marked improvement on the playability of a guitar once it has been through our workshop. No matter what you pay whether it be £119 or £1119 every instrument new or used leaves our workshop fit to be played by beginner or professional. Of course, if you have a preference then the guitar will be setup to play just how you like it. I want the guitar to play like your guitar.

Stay In Tune - Longer
A bold claim? Not really! We pay close attention to the nut of the guitar by default when setting up our guitars. If the nut is cut too tight on the strings then they pinch (that clicky sound when you tune or detune). The clicking noise is the sound of the string pinging into position. In other words it is not moving freely so when you go to tune your guitar it will be at one pitch but when you bend the string or use the tremolo the string "pings" into its actual pitch - now out of tune! People blame the tremolo for poor tuning on guitars but it is actually usually the nut which is to blame.

Look Better
Thats right! Our guitars even look better than guitars bought from any other store!! A visual check is made on every guitar. We are always looking for cosmetic issues and will take the price into account. I have rejected "flame top" guitars with not enough flame, guitars with poorly aligned inlays, buff marks, dinks and dents - most scenarios have occurred over the years - all rejected on behalf of the customer. On guitars which may have been poorly buffed at the factory we even have a T-Cut which helps remove excess scratching to give surfaces like black gloss a wonderful pristine sheen. Every guitar we sell is polished of course and the only dust you will see on the guitar will have landed on it from the box we put it in for packing!




Want more reasons to buy from Richards Guitars?

After Sales support

My live help facility isn't just for people who want to buy guitars but also people who have bought guitars. I am here for anyone who needs the help, most hours of the day, most days. I always say "If I am in, its on". Thats the general rule.

A second guitar setup to your new guitars standard for just £35 - Got a guitar at home that you think could be improved? Drop it in and we will do over £55 worth of work for just £35

6 & 12 month checks and "re-sets". A *FREE follow up service for any of my customers. We will ensure your guitar plays like the day it left our store (minus your own wear and tear of course!) saving you £££ on pricey guitar technicians bills. If we find any parts that are failing that are not due to normal wear and tear we will replace them free of charge!

Over the past 20 years I have worked hand in hand with suppliers, reporting back with fault "trends" and ways to improve products supplied to us. Companys I have dealt with have been listening intently over the years and we know what value our input has brought to their brands.

To summarise, a guitar supplied by Richards Guitars will not just feel like a new guitar, it will feel like YOUR guitar.

* Due to the need to check your intonation & adjust accordingly you must bring in your guitar with BRAND NEW strings fitted (original guage as setup when sold) OR pay our technician to remove your old strings and fit new ones - guide price £16 including strings. It is impossible to check intonation accurately with old strings.

Past 2 Years Of Customers (Image only shows some of the UK!)

Every red marker represents someone who I have supplied a guitar to,  possibly starting with guidance and advice online, telephone or in store.  I have provided a guitar meticulously quality controlled and set up to their personal specification.  I have personally play tested prior to dispatch and have continued to provide back up and support via my live chat service...
Call us during office hours (Monday To Saturday 10-4pm) on 01789 263333
Why not book an appointment and spend a morning or afternoon in total peace and privacy? All the advice will be on hand whenever you need it
Live Help is available which is run by Jon, Jake & Richard most hours of the day 7 days a week
Richard has written many advice blogs relating to this brand, which can be found at the bottom of the page
Richard has provided many hours of advice via our Youtube page at www.youtube.com/richardsguitarshop
Special highlights are often featured on our Instagram
The modern-day electric guitarist is more demanding than ever. They demand sounds of the highest tonal integrity, covering everything from crystalline clean through to molten metal, with flexible switching and routing options allowing them to sound their best in any playing situation.

Many guitar amplifiers have tried, and failed, to provide all things to all players; until now. The new BluGuitar AMP1 Mercury Edition delivers a diverse tonal palette, covering everything from warm and rounded jazz to mid-heavy metal, in a professional and portable package. The immense power and character of all of your favourite vintage tube amplifiers has been carefully engineered into a compact road-ready unit that fits inside your glove compartment or gig bag – without compromising on tone.

BluGuitar AMP1 Mercury Edition

 features four revised channels making the amp even more versatile, amazingly detailed and responsive, allowing you to dial in your own signature tone with greater precision. With revolutionary Nanotube™ technology and fully modifiable channels, the AMP1's sounds will take you on a journey through the history of guitar amplification. From Clean to Vintage, to Classic and Modern tones the AMP1 is ready to work with any rig and in whichever musical context you wish to use it.

BluGuitar AMP1 Mercury Edition comes equipped with:

• More tightness through all overdrive channels

• More punch and bite for high-gain-sounds in the Classic and Modern channels

• Greater dynamics in the Modern channel for contemporary metal tones

• Redeveloped reverb algorithm for adding even greater dimension and depth to your guitar sound

Features:

• Switchable and adjustable Boost and Reverb controls

• Three integrated footswitches

• Truly outstanding Speaker Simulation output for recording as well as headphone output

• Modern, boutique tube amp performance in an incredibly compact, light and easy-to-transport unit

• Simple-to-use interface so you can plug in and play, and sound great, from the first chord?

Flexibility

You can take your AMP1 with you wherever you are; it fits right in your gig bag. It's incredibly compact and very light. Just to make everything that little bit quicker before and after the gig, AMP1 can be securely attached to (and then removed from) a single handle on your pedalboard or amp cab thanks to Easylock, the magnetic attachment system from BluGuitar. With the Remote1 floor control, you can build AMP1 into a fully programmable amp system—including adjustable power-soak, master, volume, gain and MIDI functions. AMP1 offers you the ultimate in practicality and tonal flexibility.

Originality

AMP1 will make you stand out from the crowd. It offers you every possibility to find your own personal tone without delving into a jungle of digital sub-menus and secondary functions. If you're a player who needs just two basic sounds, then AMP1 is your perfect match. Should you require more tones from the unit, Remote1 offers a bunch of extra possibilities. Plus, if you want to integrate your favourite pedals into your Amp1 setup, you can use the Remote1 with the Looperkit to quickly and easily create a fully programmable switching system featuring four true bypass relay loops.

Finding Your Tone?

Only by finding your own tone will you become one with your guitar. Find it, and you'll be truly happy. When you plug into the new AMP1 Mercury Edition, you'll find that it's not just the tones which inspire you, but the characteristic tube amp feel; be warned, it can become quickly addictive! The direct and 'spongey' response, fat bass that never muddies, trebles that never becoming fatiguing, and the almost unfathomable depth of tone contained within the AMP1's four channels allow you to zone right in on your own signature tone, unlocking your creativity, maximising your playing potential, and allowing you to become one with your guitar.

More and more professional guitar players like Jennifer Batten, Kat Dyson, Ian Crichton, Uli Jon Roth, Paul Guerin and Dave Hawkins are thrilled to be using the AMP1 and we think you will too!
Choose options