5.0 star rating
4 Reviews
My Crafter GAE15L/N Acoutic Guitar
Review by Alan S. on 29 Sep 2019
review stating My Crafter GAE15L/N Acoutic Guitar
Richards Guitars provided an excellent service for the set up of my guitar, for the personal attention of staff in the shop and for timely and clear Emails about progress and payment. I have found the guitar easier to play. I was given great advice on the names and availability of strings to playing even easier for suitable for those like myself who have arthritis in my hands.
12 string Yamaha
Review by Manu R. on 9 Sep 2019
review stating 12 string Yamaha
Action is perfect, and stays in tune for longer.
Martin and Yamaha set up.
Review by Keith Y. on 3 Jun 2019
review stating Martin and Yamaha set up.
Cannot recommend enough, not only a great service but a very pleasant experience just visiting the shop.
My over all summary would be try it and you won't be disappointed .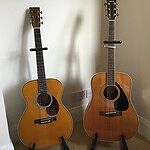 Bass Guitar set up.
Review by Rob B. on 16 Mar 2019
review stating Bass Guitar set up.
All went very well. Staff very friendly. My bass was left with them for an hour or so while I went for a coffee. Very convenient. The adjustments made are very subtle but are there none the less. It is when I play certain challenging pieces that notice the difference the most.