5.0 star rating
5.0
4 Reviews
Very happy :)
Review by Liam R. on 6 Apr 2019
review stating Very happy :)
Friendly, accommodating service no problem for a 5 star review! Richard met my brother and I on Sunday at the shop gave us loads of guitars in our budget range and left us to it, although was nearby for questions, and a chat. Some hours later we whittled it down to a guitar each. Love the workshop set up, had to wait for that but well worth it, and love the guitar... :)
EastmanE10ss / v
Review by Jonny D. on 12 May 2018
review stating EastmanE10ss / v
Hello everyone at Richards Guitars. Then I've had a few days with my EastmanE10ss / v. This is the most amazing acoustic guitar I've played on. Sounds absolutely wonderful. Neck alignment, finish, pickyard and guitar box absolutely wonderful. Thank you so much for all the answers, service and good deals to all of you at Richards Guitars. And God bless all the workers of Eastman Guitars. Maybe I'll be back for more. With best regards Jonny Disenbroen, Norway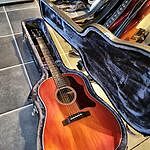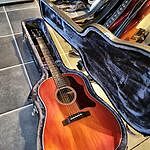 Amazing guitar!
Review by Adrian on 2 Aug 2017
review stating Amazing guitar!
Stunning looking guitar. I asked richard for a more bassy dark sound and this guitar does not disappoint! Very responsive, great range of tone, very easy to play.
Eastman 10ooss/v Fabulous Find!
Review by Brad A. on 2 May 2017
review stating Eastman 10ooss/v Fabulous Find!
I dropped in to Richard's shop to potentially waste some time and to avoid spending any more time "shopping" than I could get away with on an afternoon trip to Stratford. I tried out a few guitars without any real intention of buying one as I have several very, very nice guitars already. Having tried several out which were all ok, I picked up picked up an Eastman 10ooss/v and just couldn't put it down. It just felt right. Intensely musical, focused, intimate, punchy, sweet and yet detailed with plenty of snap and chime. Richard's enthusiasm mirrored my own and he explained the hand-made nature of Eastwoods and the high-end tone woods used and I just had to buy it. I haven't put it down for three days now. Wonderful!