5.0 star rating
9 Reviews
These guys saved the day
Review by Stuart F. on 19 Jan 2020
review stating These guys saved the day
Great online advice from RG following a visit from a friend of mine who lived locally and was helping me buy a first proper guitar for my son. I then called them to order an Eastman that we'd agreed would be perfect. This was to be a Christmas present and there was just enough time to get it prepped and off to us. But when the stock failed to materialise from the makers, they played a blinder, pulled out all the stops (although it wasn't an organ of course) and matched us with a Faith guitar which arrived Christmas Eve (phew). My son loves it. Needless to say, we can't recommend RG guitars highly enough.
First class service
Review by Peter B. on 13 Jan 2020
review stating First class service
I purchased an Eastman PCH-1 for a Christmas gift for my son. Jon was very helpful at time if purchase and gave great advice. Unfortunately the week before Christmas the stock had not arrived and I was panicking. Jon again gave great advice and suggested a Lag acoustic in a beautiful finish. It was an upgrade from my previous order but was supplied at my original purchase price. I collected the guitar and was really pleased. My son was over the moon and loving the guitar. I would not go any where else now, and am currently saving for a Gordon Smith electric for me. Thanks again. Peter
Fantastic wouldn't go anywhere else
Review by David H. on 4 Sep 2019
review stating Fantastic wouldn't go anywhere else
Fantastic wouldn't go anywhere else
Great Service
Review by Tony W. on 11 Feb 2019
review stating Great Service
Richard took the time to listen to what I wanted and then sold me something that was suitable within the price range I was looking to pay (rather than whatever was the most expensive). Great Eastman guitar and great service from Richard.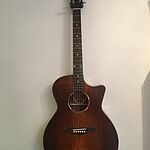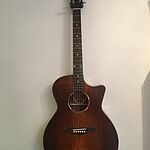 Jonathan W.
5 star rating
Don't shop anywhere else!
Review by Jonathan W. on 7 Feb 2019
review stating Don't shop anywhere else!
I'm lucky enough to live in the next town so I was able to visit the store and try the Guitar I wanted. I was also lucky to find that they had just taken delivery of the Eastman I wanted. I was able to sit undisturbed in room and play for a while. The guitar sounded great and felt good too; I wasn't sure a setup would add much more value. I expected I'd have to wait a week or so for the setup but to my surprise, they were just able to squeeze it in to the workshop that same day so I spent a few hours out and about before coming back to the guitar in even nicer condition! So so playable and the sound full and well balanced through the range of tone. I had bought this as a 2nd guitar just to have kicking around the house so I'm encouraged to occasionally pick it up and play (I'm no professional). As it happens, it is in a different league to my Takamine that cost almost 3 times as much 20 yrs ago. A testament to Eastman but Richards enthusiasm for the brand and various videos promoting the value of his workshop service made me 100% confident I was making a quality purchase. I was absolutely right too and I absolutely adore the guitar; now my no.1 guitar! And played every day since I took it home. Don't even consider shopping elsewhere.