5.0 star rating
5.0
3 Reviews
Fantastic guitar
Review by Andrew S. on 11 Mar 2019
review stating Fantastic guitar
Great guitar beautifully set up. Will definitely be buying from Richard again.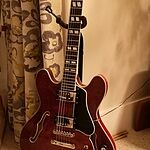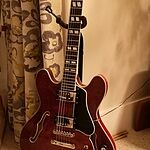 Eastman T486 classic.
Review by Roy W. on 17 Oct 2016
review stating Eastman T486 classic.
The quality of this guitar is superb. The craftsmanship is faultless and for my ear the Duncan Seymour pickups are an excellent match. Bought unseen and relying on Richards recommendation and Utube reviews I am delighted with this guitar. Having previously bought a Furch and used Gibson from Richard I was happy to rely on his recommendation for the Eastman. Thank you Richard.
Eastman T486 classic finish from Richard's Guitars
Review by Robert B. on 20 Apr 2016
review stating Eastman T486 classic finish from Richard's Guitars
a beautiful guitar with HSC; couldn't be happier with the guitar or the service from Richards Guitars; they provide a pro set-up and even included a spare set of strings - thanks Jack!
Q: I'm interested in the Eastman T486, which looks like a real nice guitar. I am wondering how it compares to the Ibanez JSM10 or the AS153. Also, it is pushing my budget so I'd be interested in what the best price you can do on the guitar is.

Many thanks in advance - and as I work in Cov I can call by in the next few weeks work permitting to try.

Andy
A: Hi. My best answer is you are comparing a totally hand made instrument against a mass produced one. This is immediately apparent when you pick one up. If like me this is relevant to you then there is no comparison to be made. For the price you will find nothing that comes close to an Eastman. I appreciate it may be pushing your personal budget but maybe a better way to look at it is to consider yourself lucky that a guitar of this pedigree is even available within your budget - even if it is extending it! The best bet is simply to try it but please let me know maybe a week or so in advance so I can make sure I have one and that it is hand finished in our workshop ready for your arrival.