Furch Red Pure Gc SR Grand Auditorium (cutaway) Acoustic Guitar
Sale price

$2,660.00
Regular price

$3,394.00
(/)
---
Want a Better Guitar? Buy It From Richards Guitars - If you are serious about the guitar please do find the time to read this. I promise you that anyone offering you next day delivery are not offering what we do!

Behind every guitar sold is our meticulous quality control and personalized setup service. We literally leave no stone unturned. From geometric to cosmetic - every aspect is checked and adjusted as necessary...

We want your guitar to INSPIRE you.

In this first video I introduce you to a customers guitar which is about to go into our workshop for setup and I show you just how many modifications and improvements will be made to the guitar.




This second video shows the guitar going through the workshop process. This process takes around an hour but dont worry - its just highlights!  

Its Not Always A Happy Ending

One of my favorite adverts was one by Honda which said at Honda they don't use the word "OK" and instead they use the phrase "What If".  I LOVED that advert and found it so inspiring.  This is the premise of every guitar setup we undertake.  If that means rejecting guitars and starting again - that is exactly what we do.

No Time To Watch the Videos? Here Is the Summary...

If you have bought a guitar before you will know all too well that not every guitar feels or plays the same. You may also know that due to the nature of the major component of the guitar (wood) that they can feel great one moment and awful the next (say for example after traveling half way around the globe on a boat - from some factory in the far east to the UK!)

Richards Guitars offers a unique service offering the more discerning/knowledgeable buyer a host of "players benefits" which will ensure that ANY guitar purchased will give you years of enjoyment - regardless of the price paid. I can demonstrate that a guitar purchased from Richards Guitars will...

Sound Better
Pickups need to be balanced and adjusted accordingly for the optimum output. The height of the strings on an acoustic will effect the overal tone and volume. The break angle of string over saddle will also effect the volume, tone and energy that remains in the string. A poorly cut nut will sap tone and can cause various rattles and buzzes.

Feel Better
Mass produced guitars always suffer to a varying degree from sharp burs on the edges of the frets where they have been cut off in production. By spending time "softening" these edges it makes a massive difference to the feel of the guitar. From a sharp, scratchy feel when moving your hand up and down the fretboard to a guitar that feels like it has been played in for years.

Play Better
It is rare that there isn't a marked improvement on the playability of a guitar once it has been through our workshop. No matter what you pay whether it be £119 or £1119 every instrument new or used leaves our workshop fit to be played by beginner or professional. Of course, if you have a preference then the guitar will be setup to play just how you like it. I want the guitar to play like your guitar.

Stay In Tune - Longer
A bold claim? Not really! We pay close attention to the nut of the guitar by default when setting up our guitars. If the nut is cut too tight on the strings then they pinch (that clicky sound when you tune or detune). The clicking noise is the sound of the string pinging into position. In other words it is not moving freely so when you go to tune your guitar it will be at one pitch but when you bend the string or use the tremolo the string "pings" into its actual pitch - now out of tune! People blame the tremolo for poor tuning on guitars but it is actually usually the nut which is to blame.

Look Better
Thats right! Our guitars even look better than guitars bought from any other store!! A visual check is made on every guitar. We are always looking for cosmetic issues and will take the price into account. I have rejected "flame top" guitars with not enough flame, guitars with poorly aligned inlays, buff marks, dinks and dents - most scenarios have occurred over the years - all rejected on behalf of the customer. On guitars which may have been poorly buffed at the factory we even have a T-Cut which helps remove excess scratching to give surfaces like black gloss a wonderful pristine sheen. Every guitar we sell is polished of course and the only dust you will see on the guitar will have landed on it from the box we put it in for packing!




Want more reasons to buy from Richards Guitars?

After Sales support

My live help facility isn't just for people who want to buy guitars but also people who have bought guitars. I am here for anyone who needs the help, most hours of the day, most days. I always say "If I am in, its on". Thats the general rule.

A second guitar setup to your new guitars standard for just £35 - Got a guitar at home that you think could be improved? Drop it in and we will do over £55 worth of work for just £35

6 & 12 month checks and "re-sets". A *FREE follow up service for any of my customers. We will ensure your guitar plays like the day it left our store (minus your own wear and tear of course!) saving you £££ on pricey guitar technicians bills. If we find any parts that are failing that are not due to normal wear and tear we will replace them free of charge!

Over the past 20 years I have worked hand in hand with suppliers, reporting back with fault "trends" and ways to improve products supplied to us. Companys I have dealt with have been listening intently over the years and we know what value our input has brought to their brands.

To summarise, a guitar supplied by Richards Guitars will not just feel like a new guitar, it will feel like YOUR guitar.

* Due to the need to check your intonation & adjust accordingly you must bring in your guitar with BRAND NEW strings fitted (original guage as setup when sold) OR pay our technician to remove your old strings and fit new ones - guide price £16 including strings. It is impossible to check intonation accurately with old strings.

Past 2 Years Of Customers (Image only shows some of the UK!)

Every red marker represents someone who I have supplied a guitar to,  possibly starting with guidance and advice online, telephone or in store.  I have provided a guitar meticulously quality controlled and set up to their personal specification.  I have personally play tested prior to dispatch and have continued to provide back up and support via my live chat service...
Call us during office hours (Monday To Saturday 10-4pm) on 01789 263333
Why not book an appointment and spend a morning or afternoon in total peace and privacy? All the advice will be on hand whenever you need it
Live Help is available which is run by Jon, Jake & Richard most hours of the day 7 days a week
Richard has written many advice blogs relating to this brand, which can be found at the bottom of the page
Richard has provided many hours of advice via our Youtube page at www.youtube.com/richardsguitarshop
Special highlights are often featured on our Instagram
First-class acoustic guitar made for the most discerning guitarists.
Premium-quality master grade tonewoods.
Proprietary design features and production technologies, including soundboard and backplate voicing, the revolutionary Furch CNR System®

neck joint, and Full-Pore High-Gloss Finish.
Luxury appearance featuring a distinctive ring rosette, lavish body and headstock binding with a contrasting line, and unconventional koa square fingerboard position markers.
Heavy-duty Hiscox hardshell case.

The Red Series is the top line of our solid-wood guitars, where no expense is spared in an effort to use the very finest materials and components. Furch Red Pure SR model is made from master grade tonewoods – the soundboard features Sitka spruce and the back and sides are made from Indian rosewood. This combination lends Furch Red Pure SR guitar a beautifully balanced timbre that is bright and open thanks to the spruce top. Furch Red Pure SR guitar owes its breathtaking appearance to a simple natural design underscored by koa appointments.

Remarkable sound

Sound is the most important consideration for Furch guitars. Their excellent acoustic qualities are the result of state-of-the art technologies, proprietary production processes and precision craftsmanship combined with the use of the best available tonewoods. Furch Red Pure SR guitar is no fluke. Hear its exceptional sound quality for yourself with Tonepedia's app. You can compare its unique sound with other Furch models and also guitars from other manufacturers.

Unique voicing process

The premium nature of Furch Red Pure SR guitar is underscored by the fact that both the soundboard and the back plate are individually tuned using the voicing process, our proprietary technology that enhances the guitar's tonal properties to the highest level. Thanks to that, Furch Red Pure SR guitar has a crystalline clear, harmonically rich, balanced, and highly dynamic sound across the entire tonal spectrum.

Exceptional finish

Furch Red Pure SR guitar is protected by our proprietary Full-Pore High-Gloss Finish, which has been developed to enhance the guitar's tonal qualities. The finish consists of an ultrathin layer of highly resistant lacquer that provides excellent surface protection and accentuates the structure of the wood at the same time.

Beauty of exotic wood

The stunning appearance of the guitar is underscored by a highly figured Central American ziricote bridge, fingerboard, and headstock overlay. The body, fingerboard, and headstock feature koa binding with a white contrasting line complemented by padauk top plate decoration with black and white line.

Rosette made from koa

The soundhole is adorned by a rosette featuring a bold koa ring with a contrasting black and white line.

Transparent protection

The soundboard of Furch Red Pure SR guitar is protected by a transparent pickguard that allows the natural beauty of the wood to shine through. The pickguard is designed to have no effect on the tonal qualities of the soundboard.

Unconventional position markers

White pearl side position markers combined with unconventional rectangular fingerboard inlays made from koa improve fingerboard orientation and enhance the guitar's exclusive appearance.

Excellent machine heads

Furch Red Pure SR guitar has an excellent tuning stability courtesy of Gotoh 510 Silver Patina machine heads with polished ebony buttons and a highly precise 1:21 gear ratio.

/specification/

Neck

| | |
| --- | --- |
| Nut width | 45 mm |
| Available nut width | 43 mm and 48 mm |
| Neck reinforcement | CNR System with dual-action adjustment |
| Neck profile | Furch Soft V |
| Scale length | 650 mm |
| Fingerboard material | Figured ziricote |
| Fingerboard radius | 400 mm |
| Fingerboard front inlay | Koa rectangular inlays |
| Fingerboard side inlay | White pearl linear position markers |
| Fret finish | Polished |
| Headstock overlay | Figured ziricote |
| Fingerboard and headstock binding | Koa with white line |
| Neck material | African mahogany |
| Machine heads | Gotoh 510 Silver Patina - gear ratio 1:21 |
| Machine head buttons | Polished ebony |
| Zero fret | TUSQ |
| Nut string spacing (45 mm) | 38 mm |
| Nut string spacing (43 mm) | 36,6 mm |
| Nut string spacing (48 mm) | 40,1 mm |
| Strings | Elixir Ph-Br Nanoweb 12-53 |
| Neck finish | Full-Pore Smooth-Slide Satin Finish |
| Headstock finish | Full-Pore High-Gloss Finish |

Body

| | |
| --- | --- |
| Available body shapes | D, Dc, G, Gc, OM, OMc, OOM, RS |
| Neck-to-body joint | At the 14th fret (OOM at the 12th fret) |
| Solid top - grade | Sitka spruce - master grade |
| Solid back and sides - grade | Indian rosewood - master grade |
| Binding | Koa with white line |
| Purfling | Padauk with black and white line |
| Tail decoration | Koa wedge with contrasting lines |
| Rosette | Solid koa ring with black and white line |
| Bridge | Figured ziricote |
| Bridge pins | Ebony with pearl eye |
| Saddle | TUSQ fully compensated |
| Bridge string spacing | 55 mm |
| Top finish | Full-Pore High-Gloss Finish |
| Back and sides finish | Full-Pore High-Gloss Finish |
| Pickguard | Anti-scratch - transparent |
Furch Red Pure Gc SR Grand Auditorium (cutaway) Acoustic Guitar
Sale price

$2,660.00
Regular price

$3,394.00
Choose options
The Colors Of Furch
Click on the colors below to see each range in full.
Each arrow shows you the next series up or down in the range - so you will see green is the next step-up price wise from blue - and so on.
Richard has over 20 years experience and is one of Europes leading specialists.
For help and advice please call 01789 263333 or click on the live chat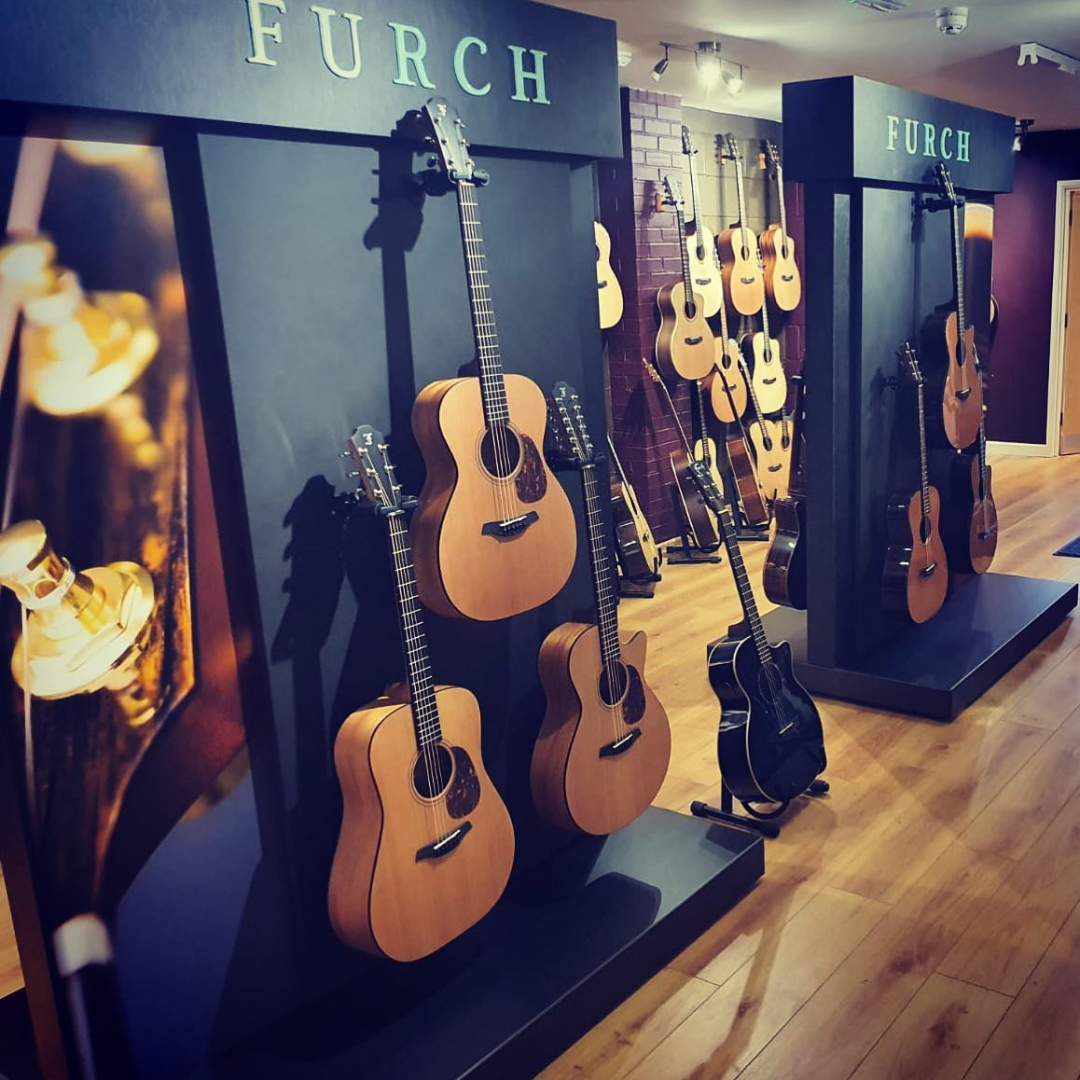 Celebrating 20 YEARS as the....
Uks Largest & Centrally Located Furch Specialist
Richard has been supplying Furch Guitars to customers throughout the World for over 20 years.
Nobody knows them better and we look forward to helping you with any questions you may have.
Blogs Dedicated To This Brand