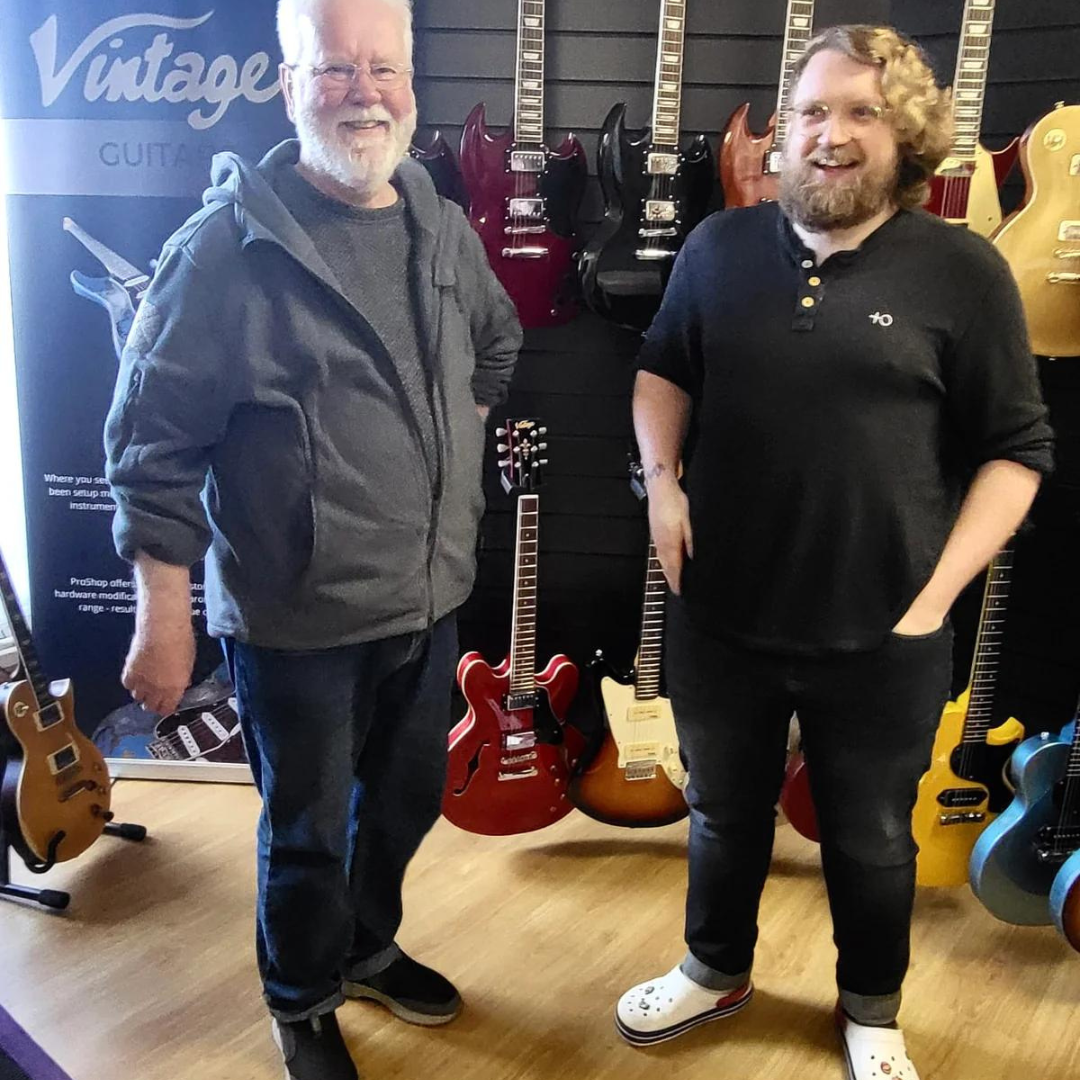 Vintage Guitars Showroom Experience In Practice: Meet Howard!
Howard was one of the first customers to be told about our new development - providing our Vintage brand guitar customers an experience I would like to believe is unique in the industry
Howard was actually looking to buy his first ever electric guitar some months ago - before the showroom was ready, but due to his own personal circumstances (which I think many of you will connect with), he felt it would be an experience worth waiting for - and I am sure he wouldn't mind me concluding it was!
This isn't the first guitar Howard has purchased through us, and is the proud owner of a beautiful Dowina Mahogany GAC (an upgrade from his earlier purchase of an Eastman PCH1 OM ).
Howard's acoustic guitar journey, with us alongside guiding him to some beautiful instruments along the way, epitomizes the relationship we aspire to grow with our customers.    Its a lovely thought to know he has trusted in us - and we have repaid his trust with genuine benchmark quality guitars that he can play and love for a lifetime.
So!  With this being his first trip into the electric guitar world, he felt safe in the thought that we could help him work out what guitar would suit him best.  He didn't want to spend a fortune on his first electric (just like when he bought his first acoustic - which he then upgraded later when he felt he was more informed of his own needs).
What better way to explore all the guitar styles than in our dedicated Vintage Guitar showroom!? 
The beauty of Vintage is they provide most instrument styles at sensible, affordable, mid-range prices - ensuring our customers can explore the widest possible range without breaking the bank.  Perfect!
Vintage guitars however are not just "affordable" - they are GORGEOUS, packing more "Mojo per pound" than any instrument on the market.  (Mojo is that "something" you just can't put your finger on - but all great guitars have it.)
Howard was well aware that every guitar on display had been upgraded to our Custom Pro standard, which removes any doubt from the experience.  The guitars are playing to their best - guaranteed - enabling Howard to focus on what styles of guitars he likes rather than second guessing whether a guitar would be better with the setup later.
Well today was "D Day"!  All the guitars he had specifically requested were put out for him (A V6, VSA500, and V100)  and as you can see from the picture he was able to enjoy total privacy - until the point where I asked if Howard would mind having his photo taken!!! (Sorry Howard....  You are an important part of our history now!) 
Interestingly, Howards experience as a first time electric guitar player with the V100 did echo my words from my video on what guitar I wouldn't recommend to a first time electric guitar player :)  but remember - its about what is right for you - not me - or Howard - but the advice and guidance is here should you want or need it.
Howard finally plumped for the VSA500 which I think he felt was a nice natural move from the acoustic guitar - and I think he made a fine choice.
Before leaving, Chris (my trusty tech) made further final adjustments to suit Howard before making his journey home in Nottingham.  Chris even reluctantly left the safety of his workshop for this rare glimpse of him on camera with Howard - I think its fair to say he's more comfortable in the workshop than he is in front of a camera! :) 
I am so grateful Howard made the 1.5 hour trip from Nottingham, and I feel blessed that he felt it was worth the effort.  There are a lot of shops between us and him - as there are when people travel from Birmingham or London - but I promise you faithfully that we will make it worth your while and give you a day to remember - that is literally the ultimate motivation for living this life with guitar - to make Howard, and you, happy!
I can't thank Howard enough for allowing me to blog about his morning at Richards Guitars and for waiting as he did for us to get it all prepared for him.
If you fancy a similar experience, please just get in touch and we can get you booked in!
Check out this video I did comparing the Vintage VSA500 to a Gibson ES335!