Eastman T59V-RD Antique Red
Sale price

$1,702.00
Regular price

$2,021.00
(/)
---
Want a Better Guitar? Buy It From Richards Guitars - If you are serious about the guitar please do find the time to read this. I promise you that anyone offering you next day delivery are not offering what we do!

Behind every guitar sold is our meticulous quality control and personalized setup service. We literally leave no stone unturned. From geometric to cosmetic - every aspect is checked and adjusted as necessary...

We want your guitar to INSPIRE you.

In this first video I introduce you to a customers guitar which is about to go into our workshop for setup and I show you just how many modifications and improvements will be made to the guitar.




This second video shows the guitar going through the workshop process. This process takes around an hour but dont worry - its just highlights!  

Its Not Always A Happy Ending

One of my favorite adverts was one by Honda which said at Honda they don't use the word "OK" and instead they use the phrase "What If".  I LOVED that advert and found it so inspiring.  This is the premise of every guitar setup we undertake.  If that means rejecting guitars and starting again - that is exactly what we do.

No Time To Watch the Videos? Here Is the Summary...

If you have bought a guitar before you will know all too well that not every guitar feels or plays the same. You may also know that due to the nature of the major component of the guitar (wood) that they can feel great one moment and awful the next (say for example after traveling half way around the globe on a boat - from some factory in the far east to the UK!)

Richards Guitars offers a unique service offering the more discerning/knowledgeable buyer a host of "players benefits" which will ensure that ANY guitar purchased will give you years of enjoyment - regardless of the price paid. I can demonstrate that a guitar purchased from Richards Guitars will...

Sound Better
Pickups need to be balanced and adjusted accordingly for the optimum output. The height of the strings on an acoustic will effect the overal tone and volume. The break angle of string over saddle will also effect the volume, tone and energy that remains in the string. A poorly cut nut will sap tone and can cause various rattles and buzzes.

Feel Better
Mass produced guitars always suffer to a varying degree from sharp burs on the edges of the frets where they have been cut off in production. By spending time "softening" these edges it makes a massive difference to the feel of the guitar. From a sharp, scratchy feel when moving your hand up and down the fretboard to a guitar that feels like it has been played in for years.

Play Better
It is rare that there isn't a marked improvement on the playability of a guitar once it has been through our workshop. No matter what you pay whether it be £119 or £1119 every instrument new or used leaves our workshop fit to be played by beginner or professional. Of course, if you have a preference then the guitar will be setup to play just how you like it. I want the guitar to play like your guitar.

Stay In Tune - Longer
A bold claim? Not really! We pay close attention to the nut of the guitar by default when setting up our guitars. If the nut is cut too tight on the strings then they pinch (that clicky sound when you tune or detune). The clicking noise is the sound of the string pinging into position. In other words it is not moving freely so when you go to tune your guitar it will be at one pitch but when you bend the string or use the tremolo the string "pings" into its actual pitch - now out of tune! People blame the tremolo for poor tuning on guitars but it is actually usually the nut which is to blame.

Look Better
Thats right! Our guitars even look better than guitars bought from any other store!! A visual check is made on every guitar. We are always looking for cosmetic issues and will take the price into account. I have rejected "flame top" guitars with not enough flame, guitars with poorly aligned inlays, buff marks, dinks and dents - most scenarios have occurred over the years - all rejected on behalf of the customer. On guitars which may have been poorly buffed at the factory we even have a T-Cut which helps remove excess scratching to give surfaces like black gloss a wonderful pristine sheen. Every guitar we sell is polished of course and the only dust you will see on the guitar will have landed on it from the box we put it in for packing!




Want more reasons to buy from Richards Guitars?

After Sales support

My live help facility isn't just for people who want to buy guitars but also people who have bought guitars. I am here for anyone who needs the help, most hours of the day, most days. I always say "If I am in, its on". Thats the general rule.

A second guitar setup to your new guitars standard for just £35 - Got a guitar at home that you think could be improved? Drop it in and we will do over £55 worth of work for just £35

6 & 12 month checks and "re-sets". A *FREE follow up service for any of my customers. We will ensure your guitar plays like the day it left our store (minus your own wear and tear of course!) saving you £££ on pricey guitar technicians bills. If we find any parts that are failing that are not due to normal wear and tear we will replace them free of charge!

Over the past 20 years I have worked hand in hand with suppliers, reporting back with fault "trends" and ways to improve products supplied to us. Companys I have dealt with have been listening intently over the years and we know what value our input has brought to their brands.

To summarise, a guitar supplied by Richards Guitars will not just feel like a new guitar, it will feel like YOUR guitar.

* Due to the need to check your intonation & adjust accordingly you must bring in your guitar with BRAND NEW strings fitted (original guage as setup when sold) OR pay our technician to remove your old strings and fit new ones - guide price £16 including strings. It is impossible to check intonation accurately with old strings.

Past 2 Years Of Customers (Image only shows some of the UK!)

Every red marker represents someone who I have supplied a guitar to,  possibly starting with guidance and advice online, telephone or in store.  I have provided a guitar meticulously quality controlled and set up to their personal specification.  I have personally play tested prior to dispatch and have continued to provide back up and support via my live chat service...
Call us during office hours (Monday To Saturday 10-4pm) on 01789 263333
Why not book an appointment and spend a morning or afternoon in total peace and privacy? All the advice will be on hand whenever you need it
Live Help is available which is run by Jon, Jake & Richard most hours of the day 7 days a week
Richard has written many advice blogs relating to this brand, which can be found at the bottom of the page
Richard has provided many hours of advice via our Youtube page at www.youtube.com/richardsguitarshop
Special highlights are often featured on our Instagram
T59/V-RD ANTIQUE RED FINISH

This is a hand made guitar. No CNC - ok we know that from all Eastman Guitars....

As with all Eastman guitars you have a nitro cellulose finish to ensure the best resonance and natural authentic look and vibe.

This guitar however features Eastmans wonderful natural vintage ageing which is done beautifully - enough so it feels old and worn but not battered and unloved!

Add a classic combination of the famous Seymour Duncan pickups and you have one of the most authentic vintage thinline semis you will encounter.

A full-size 16" thinline in our new Antique Varnish. Deluxe Laminate Top, Deluxe Laminate back and sides with plenty of tone and attitude! Dual Seymour Duncan Pickups.

Neck Material: Maple
Fingerboard: Ebony
Fingerboard Radius: 12"
Nut Material: Bone
Nut Width: 1-3/4"
Fretwire: 22-Jescar FW47104-P
Scale Length: 24-3/4"
Body Dimensions: 16" X 1-3/4"
Body Top: Maple Laminate
Body Back/Sides: Maple Laminate
F-Holes: Yes
F-Hole Binding Material: Ivoroid
Cutaway: Yes, Double
Head Cap Veneer Material: Ebony
Truss Rod: Single Acting
Headstock Style: AR
Binding Material: Ivoroid
Logo Material: Pearl
Inlay: Split Block Paralellogram
Inlay Material: Pearl
Side Dot Color: Black
Hardware Color: Antiqued Chrome
Pickguard: None
Tailpiece: Steel stop tailpiece
Bridge: Tunomatic Style
Tuners: Ping Vintage Style
Neck Pickup: Seymour Duncan Antiquity
Bridge Pickup: Seymour Duncan Antiquity
Controls: 2 Volume, 2 Tone, 3-way Switch
Truss Rod Cover: Ebony
Strings: Cleartone .011-.049 Roundwound
Tuning: E A D G B e
Case: Hardshell Case

*Over £100 Of Added Value FREE With This Guitar Includes:

Professional Setup, bespoke to your requirements including personal choice of string gauge

Certificate of Completion, for evidence of work carried out

6 and 12 Month "Healthchecks". If you are in the area we will follow up with checks and resets at 6 and 12 months - all on the house.

New Ownership Reset in the event you sell the guitar on. Improve the resale value of your guitar by keeping your certificate safe. Not only can you show the guitar has been set up already but the buyer has the opportunity to bring the guitar in to us for a reset too.
Eastman T59V-RD Antique Red
Sale price

$1,702.00
Regular price

$2,021.00
Choose options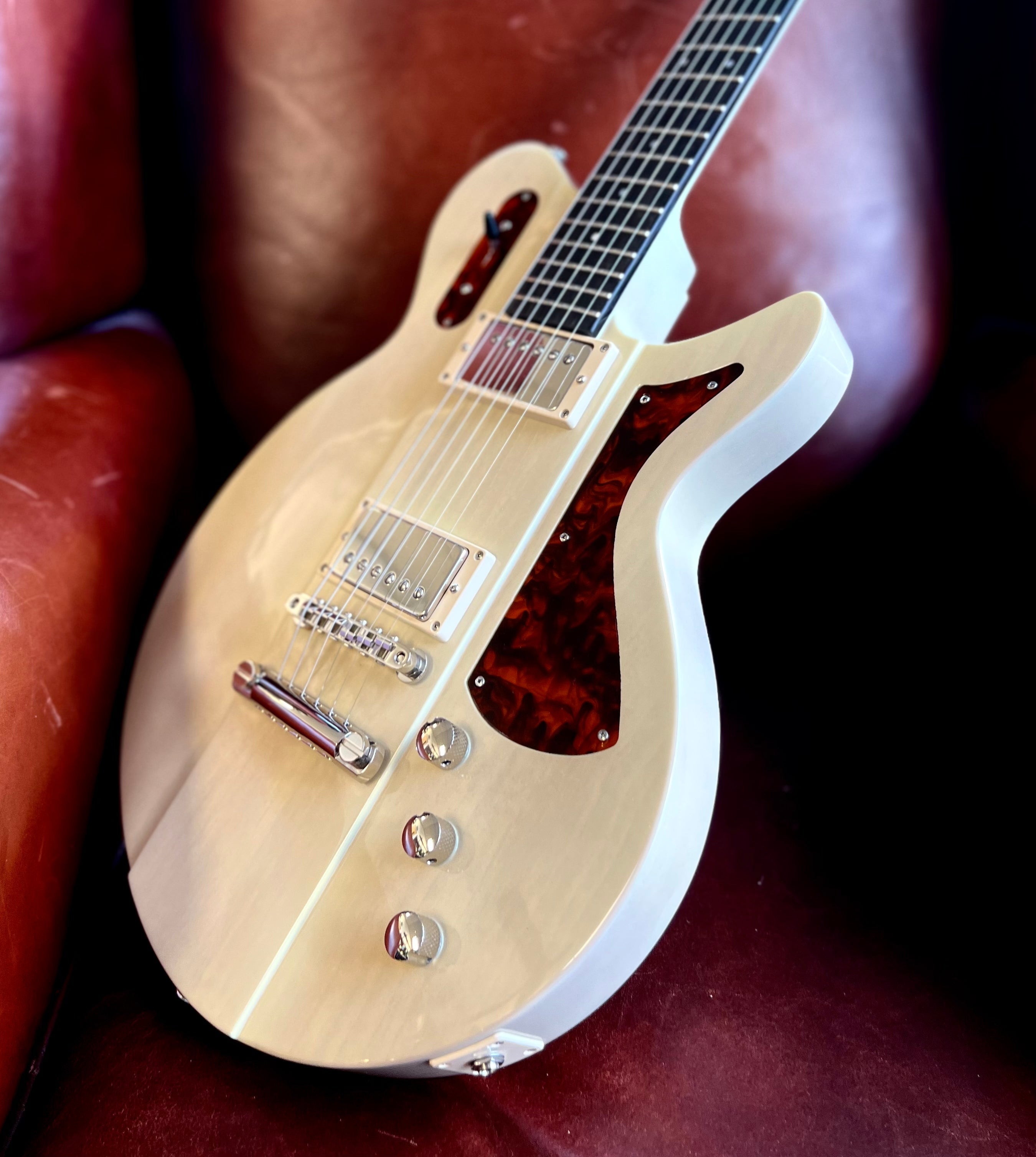 Worldwide Delivery - Or Dedicated Showroom Experience - Red Carpet Treatment Assured
The UKs First & Most dedicated Eastman Specialist
As the first official UK Eastman guitar dealer - when we started nobody knew just how incredible these guitars are and unlike some of the other guitars I have helped introduce to UK guitarists, Eastman, whilst being completely hand made, are made in volumes that allow a perfect blend between hand built "mojo" and "availability" - which whilst never perfect - through careful and constant communication with Eastman we are able to keep a steady flow in for our customers.
Whatever your Eastman requirements - please do contact us for help - I promise you could not be in safer hands.
Blogs Dedicated To This Brand
Richards Eastman Guitars Video Guides