Thank you Richard & Team
Review by Damien P. on 28 Aug 2019
I chose the Faith FVHG after watching a video of Richard's in which he demonstrated the impact on the tonal qualities of a guitar due to the wood selected - and the sound of the FVHG he strummed just spoke to me. It arrived today & is an absolute work of art - beautifully understated, perfectly set up & its sound is like no other guitar I have heard before. Thank you Richard (& your team) for helping me select such a wonderful instrument & then sending me one so immaculately prepared. You have made someone very happy today......and tomorrow ...and the next day :)
Excellent service
Review by Tom H. on 19 Jun 2018
Bought from Richard because found service in my local shop poor and liked the video I saw of the service he provides. Bought a Faith Venus high gloss. Very efficient and friendly service. Love the guitar and setup.
The Faith HGVC
Review by Ron K. on 21 Dec 2017
When I got the faith HGVC I was immediately impressed with the shear volume and resonance of the sound produced. I've never had a guitar like this before of this quality. It seems to be well set up although the strings are somewhat on the heavy gauge for my liking and style of playing (more suited strumming than picking) So I will be changing them sometime soon for 11's They look like 12's to me as supplied.
The only issue i can find with the guitar is that it seems slightly too resonant on the open G string although that may well be my hearing loss as much as anything else. Its only noticeable when you play it open fret.
I normally use a 20W Tanglewood T3 acoustic amp for harmonica work and the fishman pre amp and bridge pickup works very well with this set up. However I recently added a Roland street cube EX to my amp options as I do a lot of duo work with another guitarist but I found a very strange buzzing effect when that amp is set to the acoustic setting and I have to move it to the clean setting and then its fine. This must be some strange interaction between the various components in the chain. don't know what.
All in all for the money I think the Faith is wonderful. Beautifully built with a definite no nonsense modern look.
I would recommend it to anybody considering buying a new guitar under £1500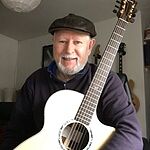 In my quest for a
Review by Keith W. on 26 Jan 2015
In my quest for a new guitar I tried quite a few different brands but kept feeling drawn back to the Faith Venus Hi Gloss. I finally took the plunge and collected my guitar from Richard's showroom and was delighted with the way it was set up, the playability and the beautiful sound unplugged and through an amp. Despite being very busy Richard was generous with his time and incredibly helpful with advice and guidance. I love my Faith FVHG and highly recommend Richards Guitars
Beautiful Guitar
Review by Lee on 1 Dec 2015
Really surprised at just how beautiful this guitar is. The choice of woods make it a joy to look at and it plays brilliantly which I believe is due to the setup by Richard's technician as I gather from other review sites that these guitars are not optimised out of the factory. Nice dealing with Richard and the turnaround time was less than a week which I thought was pretty good for the service you get. Happy. :)
Q: Hi, is this the 2018 model with the fish man pickup?
A: They are the very very latest models! Of course yes.